"I still miss those I loved who are no longer with me

but I find I am grateful for having loved them.

The gratitude has finally conquered the loss."
R. M. Brown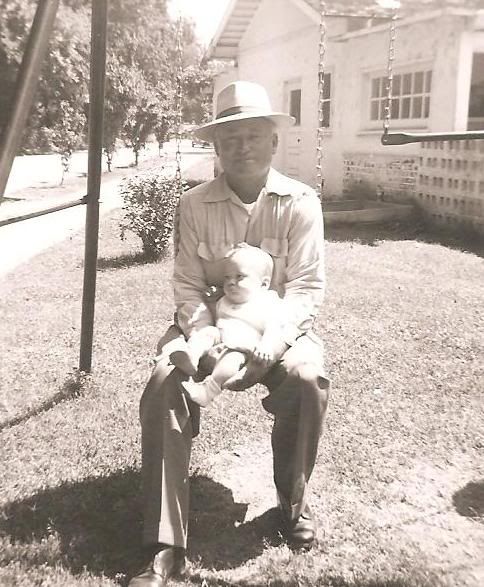 My dear Grandpa Gibbs holding me
-
1954
My ancestors led hard-working lives of faith and integrity.
I am honored to to be Diane (Stayner) Gibbs Freeman.
I am blessed to have wonderful memories with both sets of my Grandparents;

all 4 of them were in my life until I was 19 years old.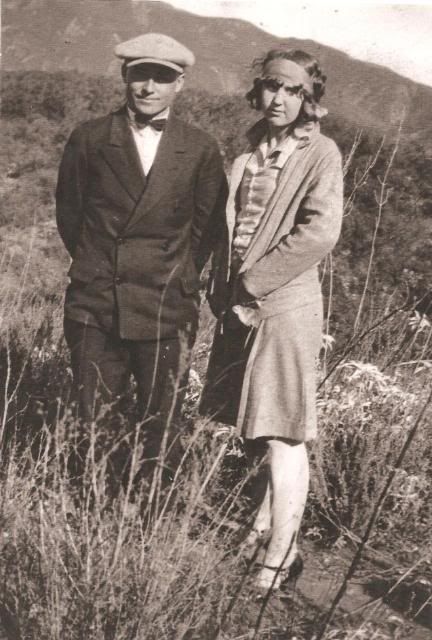 Roy & Mable Gibbs - My father's parents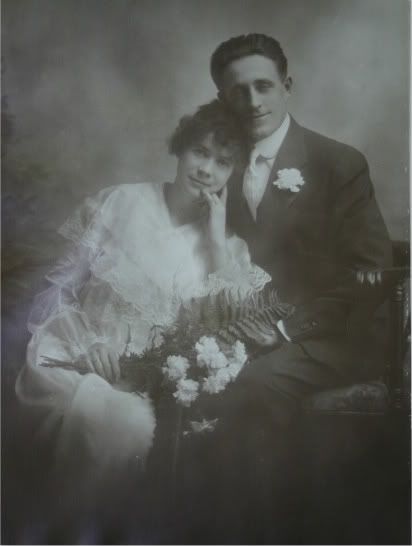 Henry & Sarah Stayner
-
My mother's parents
My Mother's Parents
Grandpa Stayner was a turkey farmer in Malad, Idaho. His parents immigrated from London, England and Grandma Stayner's parents came from Whales(Evan Jones) and France(Josephine Dechamps)
One of my most prized pieces of furniture

came from Great-Grandmother Josephine Dechamps Jones;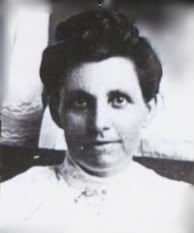 it is her buffet,

rescued from their Malad barn

and refinished by my father.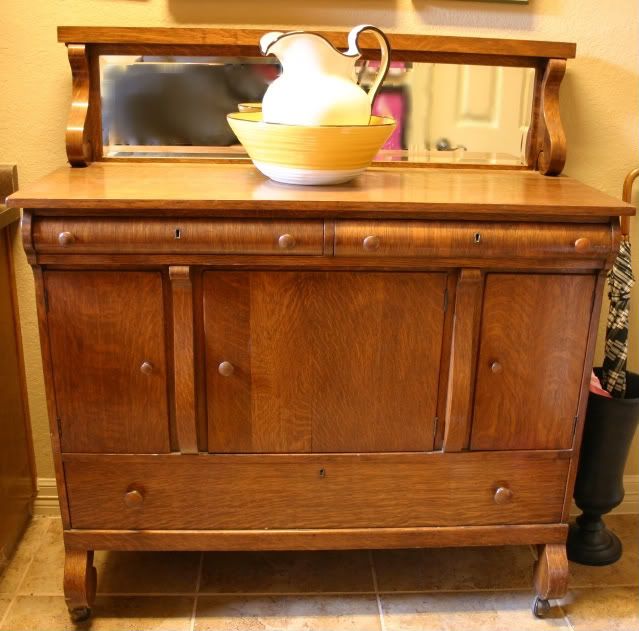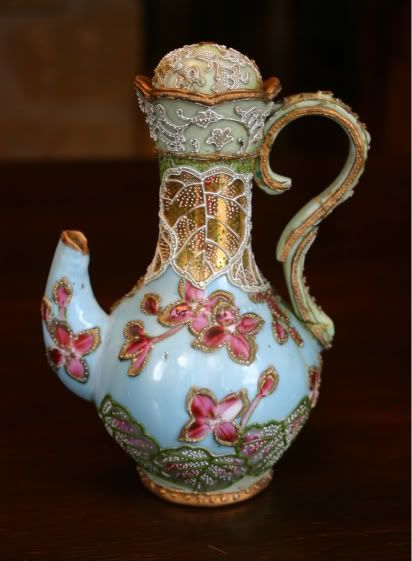 Grandma Stayner's vase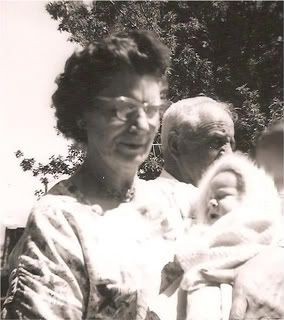 1954 - Grandma & Grandpa Stayner with me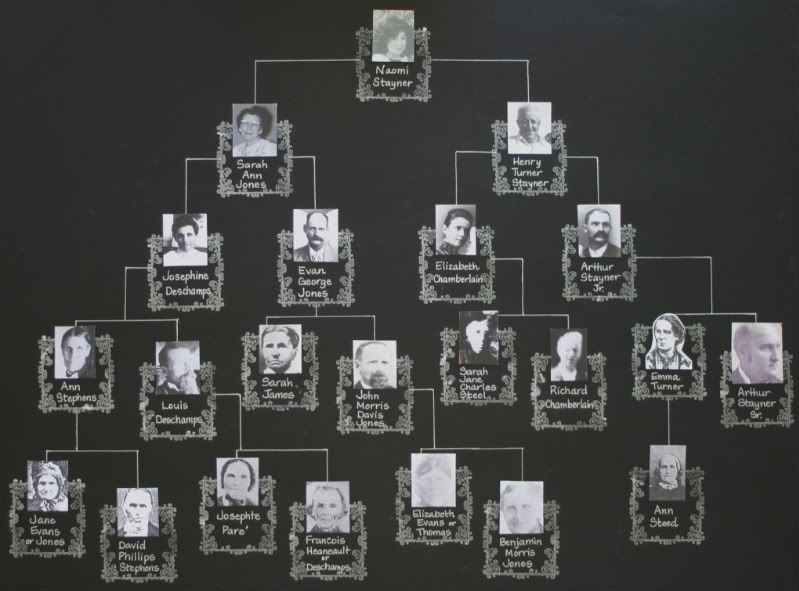 My mother, Naomi Stayner Gibbs, and her family tree
My Father's Parents
I loved my Grandpa, Roy B.Gibbs; it was fun to make him chuckle. A cotton farmer in Alpaugh, CA
, his ancestors came from Bavaria, Germany in 1747. At age 14, Nicolas Gibbs left his parents and traveled by ship to America
. A
n Army Private in 1871, he fought under General George Washington in the Battle at Kings Mountain in The Revolutionary War. A sniper, he and his company ambushed several hundred Red Coats. At a time when America was merely colonies, he received a large land grant in Knoxville, Tennessee, as compensation for his military service. On that land, he raised 13 children in a log cabin that still stands today. Many Knoxville residents bear my maiden name, Gibbs; for more information regarding the Nicholas Gibbs Historical Society, go here or here.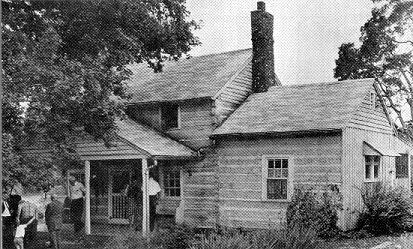 Home of Nicholas Gibbs
Built in 1793 in Knoxville, Tennessee
Grandpa Roy Gibbs was also a Baptist preacher, working odd jobs to endure the Great Depression. One day, when a man couldn't afford to pay him, Grandpa said he would gladly take the desk in the barn for compensation. I can still picture Grandpa sitting at that desk.

Now mine,
I sit at it every day.
| | |
| --- | --- |
| | |
Grandpa Gibbs' Desk
Three Generations of Gibbs
Richard Roy Gibbs(my father) / Roy Benjamin Gibbs
Julius Benjamin and Rosa Linda (James)Gibbs
I am related to the notorious outlaw, Jesse James


through Rosa Linda James
Augustus James and Sarah Pierson James
Rosa Linda's parents
Grandpa & Grandma Gibbs holding me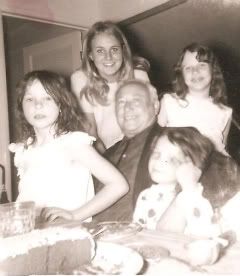 1969 - Grandpa Gibbs with me,
Marsha, Susan, Jennifer (clockwise)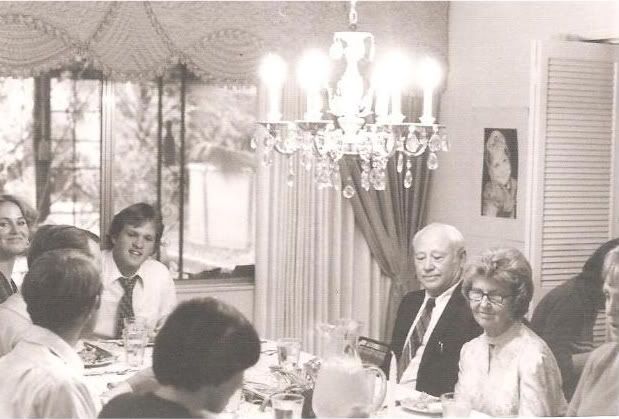 1976 - Our engagement dinner
Grandma Mable Gibbs outlived all of my other grandparents by over 20 years. She lived to be 90 years old and I am thankful all 4 of my children had her in their lives.
Grandma Mable and I shared many interests.
She was a skilled cook, seamstress, gardener, and artist
.....

and

she loved to oil paint
Mable Flora Gibbs




1997 Grandma Mable with Chloe----1990 Chrissy, Brittany
Grandma Mable's parents came from Liverpool England;
John W.Elvidge(1877) and Minnie Mae Anderson(1884)
I love this photo
of my great grandmother,Lillie Elvidge,

John's mother.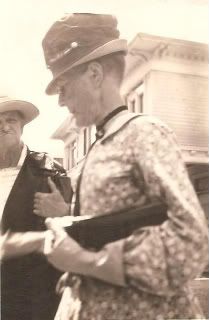 Minnie Mae, or Grandma Elvidge as we called her, came to visit when I was about 12, she was 82. It was springtime and we took pictures under the white blossoms of our apricot trees; she wore a dress with little flowers on it. It was the last time I remember seeing her.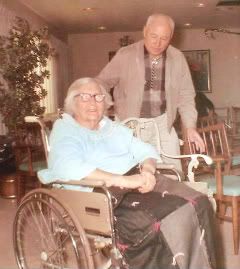 1967 Minnie Mae Elvidge with Roy Gibbs
I have a few treasures that once belonged to my
Great Grandmother & Grandfather Elvidge.
Minnie Mae's cream pitcher(1895) and vase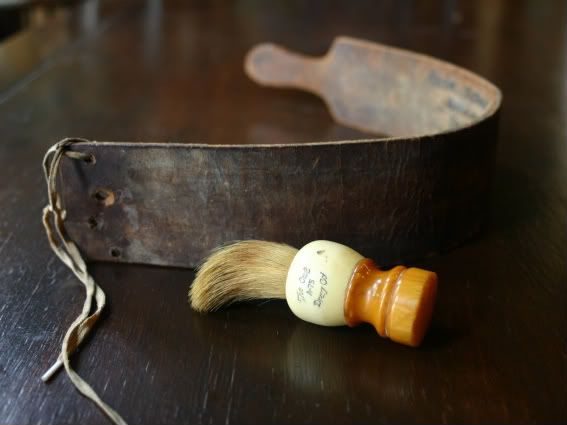 Razor strap and lather brush used by John W. Elvidge
- Circa 1895
Grandma Gibbs' coffee mug - A salt & pepper set given to her by her sister Nora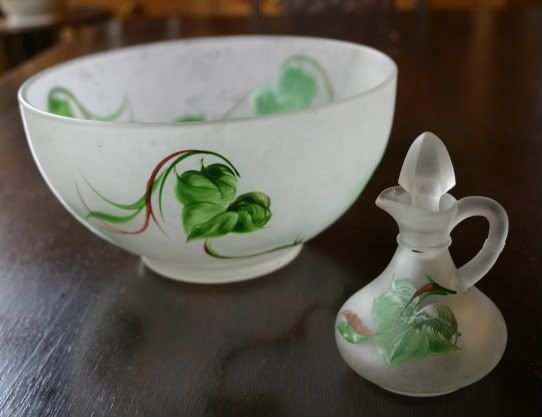 1953 - Wedding gift to my parents from Grandma Gibbs' brother, Mark Elvidge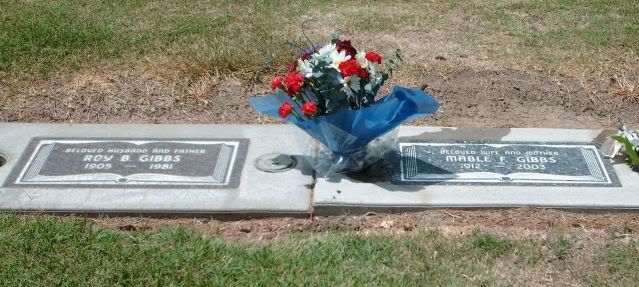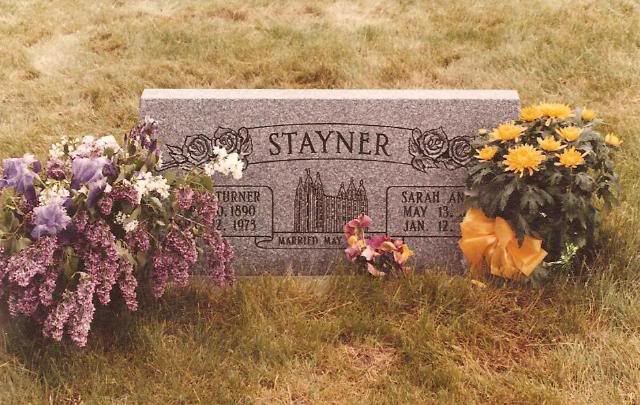 "I watched a small man with thick calluses on both hands work 15 and 16 hours a day. I saw him once literally bleed from the bottoms of his feet, a man who came here uneducated, alone, unable to speak the language, who taught me all I needed to know about faith and hard work by the simple eloquence of his example."

- Mario Cuomo
I owe a great deal
to my ancestors.

...till I see you again,

I love you,
Grandma & Grandpa
******