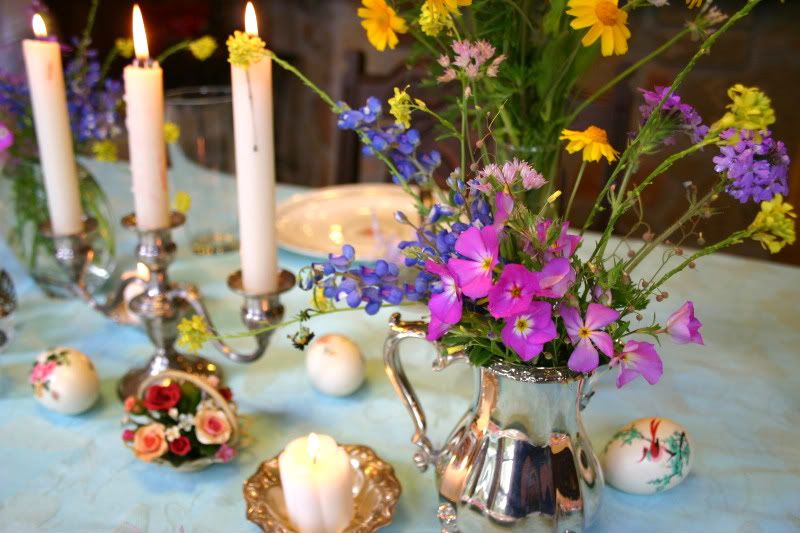 Chrissy and Zach joined us
for Easter Brunch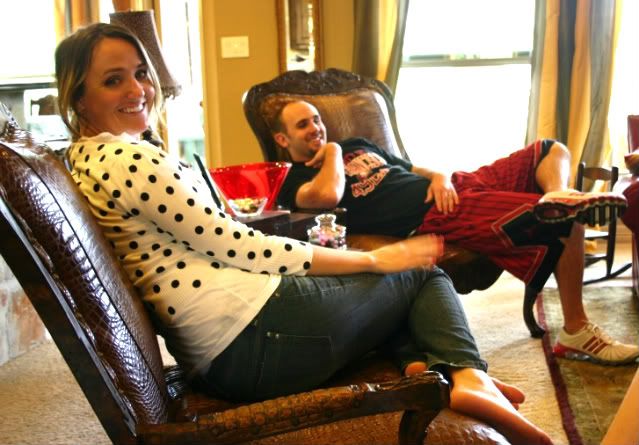 China

:

courtesy of Lois Freeman
Silver pieces

:

courtesy of my dear mother
Wild flowers

:

courtesy of the Texas Hill Country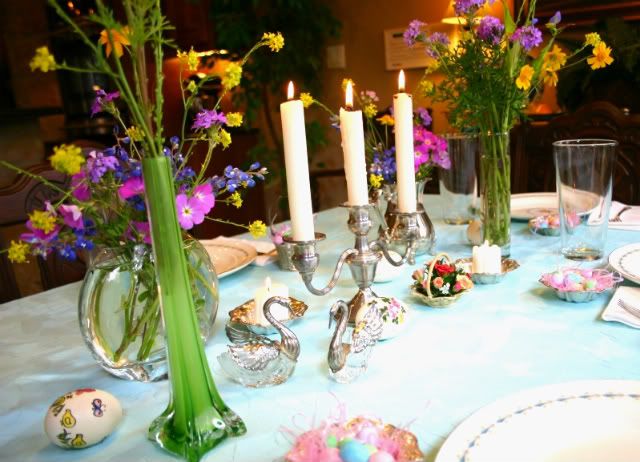 Easter Brunch Menu

:
Eggs Benedict
Raspberry Blintzes
Fried Potatoes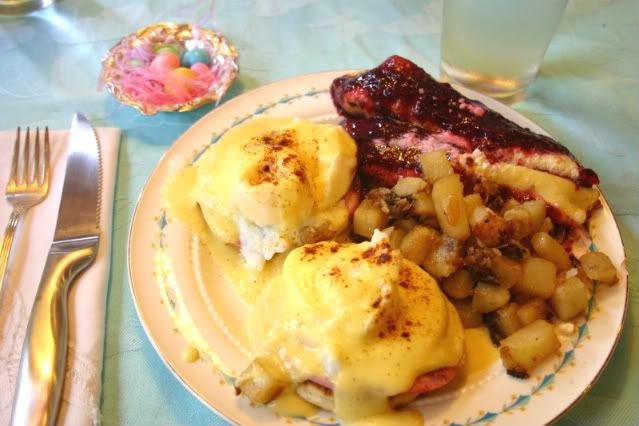 After brunch, we feasted on General Conference
Favorite moments from Saturday's session

:



#1

I am so thankful for William Tindale, who, in the 16th Century, gave his life to translate the Bible into English. And to many after him, who, at risk of life and liberty, gave their precious savings to purchase Bibles, which then, were legal only in the hands of Catholic Church leaders. These courageous and faithful followers of Christ, opened the door for my religious freedom and they would be gratified to see bibles easily available today in drawers of hotel rooms.
(talk by Elder Todd Christofferson, Quorum of the Twelve Apostles)
The sincere testimony born by Brother Koichi Aoyagi of the Quorum of the Seventy touched my heart.
Perhaps my favorite speaker of all time is Jeffrey R. Holland of the Quorum of the Twelve Apostles. I have taught many lessons in my life, in Relief Society, Young Women's, and Primary. When citing quotes to make an important point, the speaker I most often use is Brother Holland. He gives it to us straight, gets to the point, doesn't mince words and does it all with great humility. He speaks to my heart, and his closing remarks on the the Saturday session did not shrink from doing just that. In my opinion, this talk was the most pertinent and powerful message of the day.



Sunday, being Easter, was appropriately spent honoring the life, ministry, and most importantly, the Atonement of Jesus Christ. I feel a profound renewal of gratitude and debt toward my brother, Lord and Savior, Jesus Christ.
He is risen! He is risen!
Tell it out with joyful voice.
He has burst his three days' prison;
Let the whole wide earth rejoice.
Death is conquered, man is free
Christ has won the victory.
In my entire life, I have rarely watched General Conference from beginning to end. Usually, I watch one full session per day. After two hours, I get antsy and tell myself I'll read the rest of that day's talks in the Ensign next month, which, in most cases, I do

.

I am different these days; I have watched the last two Conferences from beginning to end, and I hunger for more. I am not sure what to attribute it to. . . .


maturity,
a deepening
need
for Christ,
more time, and a keener sense of how to best spend it,
or all of the above.

Whatever it is, I really hated to see Conference end. I didn't want other media on afterwards, so I could bask in the light of the sweet messages for awhile longer. Rather than overloaded, I feel invigorated by the hours of counsel

.

Encouraged

.

Committed anew

.
Lastly I want to mention something that was a complete revelation to me. The final talk of the conference was given by Neil L. Andersen. He expressed concerns, as the final speaker, that much of his material may have already been spoken by others before he would get to the podium. He said that none of the speakers are assigned subjects and the entire course of the conference is left to the direction of the Lord. Fortunately, or as divine intervention would have it, no other speaker had repeated his, or any other speaker's, material.

As a lifetime member of the LDS Church, who has heard and given innumerable Sacrament talks, all of which were on assigned subjects, I assumed that General Conference talks were carefully selected and assigned by the First Presidency. This revelation, that subjects are not assigned, makes Conference an even more meaningful and an amazing experience. Elder Andersen described it perfectly as a "spiritual symphony full of revelation and power . . . repeated themes, principle building upon principle, prophetic warnings, uplifting promises - the divine harmony is a miracle. In this conference, we have heard the mind and will of the Lord"