has returned to his Father in Heaven.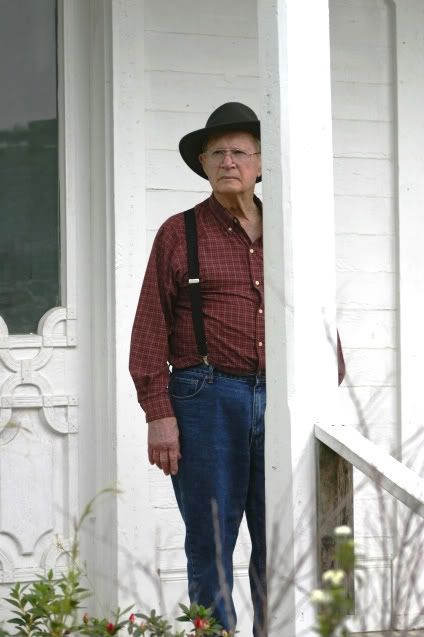 Acadian Village in Louisiana - 2006
I guess most people enter marriage with a little fear and trepidation over the in-law situation. I dated my husband for so long that I had plenty of time to get to know Tom & Lois Freeman. I had time to figure out that they were the reason my husband was a good man. They are good people, and being related to them has made my life better.

Tom and Lois fell in love over 61 years ago. She wouldn't marry him unless he was a member of her faith, so he decided to investigate it. Soon after, he was baptized a member of the LDS church and they married in the Temple. Together, they built a very happy life. Materially, they were comfortable, but if a man's wealth is measured in friends, loved ones and laughter, they were rich as kings.
Tom had the one thing I admire more than anything else in a person, true integrity. A man of his word, he did whatever he committed to do. He was an exemplary family patriarch over 5 children, 16 grandchildren, and 17 great grandchildren. He and Lois were exceptional parents, who produced an exceptional family; and each one of us dearly loves them.
Some of my favorite things about him are:
His laughter
His faith
He honored is wife and taught his sons how to treat their wives.
His love for his country and service in the US Air Force in WWII
He honored his priesthood.
He and Lois served 2 missions for the LDS Church, both in Louisiana
He and Lois were always there for the important events in our life.
He would invite us over and cook his special pancakes
Tom was rarely seen without a Pepsi in hand. Whenever he visited us, he would enlist the help of anyone who could drive to take him down to Tigermart for a Pepsi. From his hospital bed, he sent out for Pepsi. I just can't help but picture him in Heaven, holding a Pepsi.
Our family was lucky enough to travel to Louisiana with him and Lois to see the places they had been and meet people they had befriended. It became increasingly difficult for them to travel, but we were blessed to have them visit us in Texas 4 times. A visit with Tom always had a lot of laughs, lots of stories, lots of love and hugs.
On the trolley in New Orleans - 2006 / Baseball game in Houston
Some of my favorite times were at Summerdale Campground in Fish Camp, CA. It was our Freeman family tradition to go up every 4th of July and get 3 or 4 campsites and fish and hike and visit by the campfire for several days.
Summerdale - circa 1977
-1980
We even camped there this summer, with our grand babies.
It was special when Tom and Lois drove up for a visit;
there were 4 generations of Freeman campers.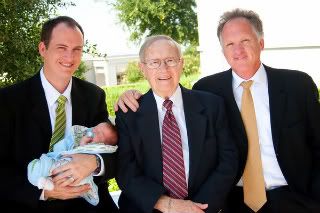 2009

- four generations: Michael, Preston, Thomas, Steve
Chloe 1997 / Ella 2005
Tom touched so many lives. My sister, Jennifer, sent me an email expressing her feelings about him. I don't think she will mind if I quote her lovely sentiments:


"Tom gave you a gift. He married a good woman, Lois, and raised a wonderful, righteous son that you would fall in love with and who treats you like a queen. That son has been a wonderful husband and father in your own family, and is the best brother-in-law I could ask for. Steve is the man he is, in many ways because of the man Tom taught him to be. What a wonderful gift Tom has given you, and all of us!"


Tom, you will be missed
. . . till we meet again.
We love you
December 15, 1924- November 16, 2009