Yesterday, Chloe was watching
Hannah Montana

.
In this episode,

the family surprised their grandmother with a brand new car.


However, Grandma's reaction wasn't what they expected.

She did not like the new car.

Grandma liked her old car.

She explained that her old car had taken her children to ball practice, dance lessons and church, and the stains on the upholstery held sweet memories of family vacations and drive-in movies.



She said her old car was, in fact, a member of the family

"......and we don't get rid of members of the family."
It got me thinking about the cars Steve & I have owned and how many memories are attached to them. I guess I feel the same way Grandma does, because we keep our
family cars
until they die. In 32 years, we have owned just three.
When we were engaged, Steve owned a brown
Ford
Pinto
.
It died
Right in the middle of the intersection of
Gettysburg
and
Fresno Street
.
It made the loudest noise I ever heard;
Steve said a bad word.
1976
Into marriage, I brought a couch, 2 chairs, and a
yellow
VW
bug
.
With his Pinto gone, Steve brought a guitar and amp
1977 - Leaving the Oakland Temple for our honeymoon
We both needed a car for work, so Steve bought
this
sweet ride:

1964 Ford Falcon Wagon
We got offers on it every time we drove it.
I'm not kidding. Did you see the rims?
1977 - We called it
"
La
Bamba
"
When Michael was six months old, we bought our first family car, an
Oldsmobile station wagon
.
Eventually, we filled it with babies.
A
diesel
, that lasted 10 years, it was great for trips!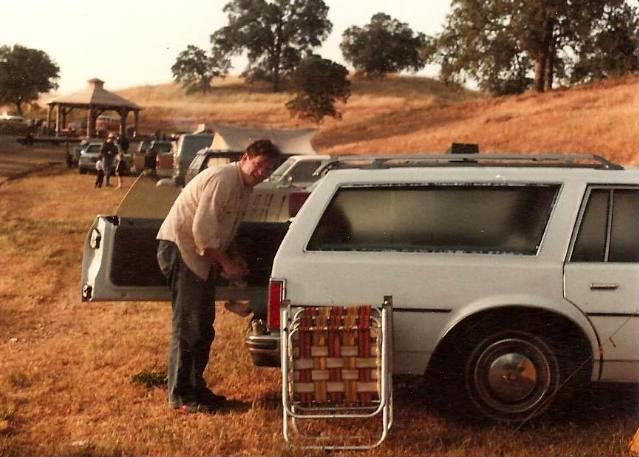 1978 -
Look closely, Steve is putting shoes on a cute little pair of feet
Steve loved his
Chevy Pick-up
and we loved
camping
!
1987 -
Off to Lewiston Lake with my parents (their car on the right)
My dream car
was a
VOLVO 240
GL
and we got one in 1987.
WE LOVED THAT CAR! and drove it for 16 years.
It was sad the day she died.
The sunroof came in handy on "Show & Tell" day.
When Mike and Brit were old enough to drive, we got a
1971
Karmann
Ghia
.
It was a fun family project reupholstering and painting it.
Very cute.
Not very safe.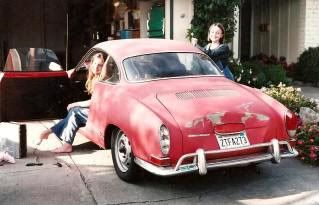 1995
These are the vehicles that currently serve us well:
| | |
| --- | --- |
| | |
2009
This was my Grandpa Gibbs'
FORD Pick-up
Grandpa bought it brand new in 1964
It was passed down to my father, and now, to me.
We get offers on it every time we take it out.

It is, in fact, a member of the family
"......... and we don't get rid of members of the family."