The Center of the Universe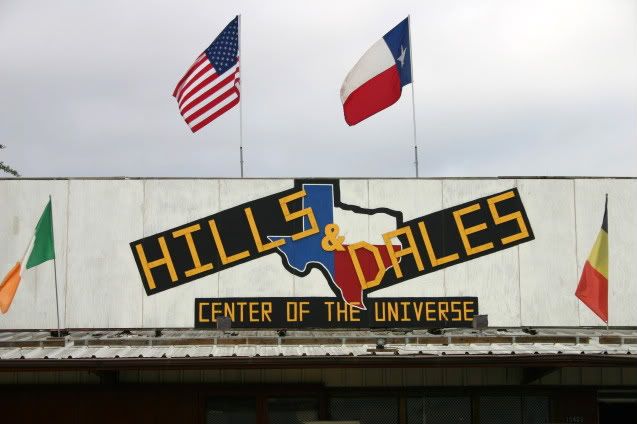 This is
Hills & Dales
.
It's a mile and a half from my house, on Loop 1604.
Hills & Dales is about as Texas as it gets . . .
the kind of place that perpetuates certain stereotypes.
It looks like
this
most of the time:
I drive by Hills & Dales nearly every day, though I have never pulled in. . . it really isn't my style. But that doesn't keep it from putting a smile on my face.
On Wednesday night, it is a snapshot of carefree lifestyle. Folks outdoors relaxing at wooden picnic tables and mingling in the warm sunset, enjoying the "world's greatest selection of beer". Some fitted head to toe in leather, others in Texas uniform

:

jeans, boots, plaid shirt (sleeves optional), and ball cap. I imagine them swapping "bike" stories of their adventures on the highway.
I have to admit, there is a certain romance in the freedom of biking down the open road; unencumbered with responsibility, heading for parts unknown. And of course, there is no better place to do that than Texas.
Steve and I used to say that someday we would buy a motorcycle with a sidecar; he would drive and I would be the passenger (in a cute leather outfit). We were half joking, half serious; it was years ago when anything and everything seemed possible. Now that I have reached (in truth, passed) the age we imagined ourselves doing that sort of thing, I would rather watch the crowd at Hills and Dales than participate.
Not that we wouldn't fit in, they are all mature folks and I am guessing they are about as close to the open road lifestyle as I am. Wednesday night is, most likely, a nice break from their jobs as lawyers and accountants.
Really, it just isn't my style . . . I don't drink beer, and I don't think head to toe black leather is my, (or Steve's) best look. But there is something that comes over me when I pass by the carefree Wednesday night crowd. Seeing them, reminds me to stop once in awhile, take a deep breath, and enjoy some leisure time.
. . . . . . and on this Summer morning, that means sitting in my Adirondack chair, looking off my back porch at the lush green beauty of nature, and being thankful that, at this moment, the best things in life are free. No leather outfit, no Harley, just me, fresh air, a good book, and the dogs.