It is summertime
and I am reminded of my favorite vacation:



Republica Dominicana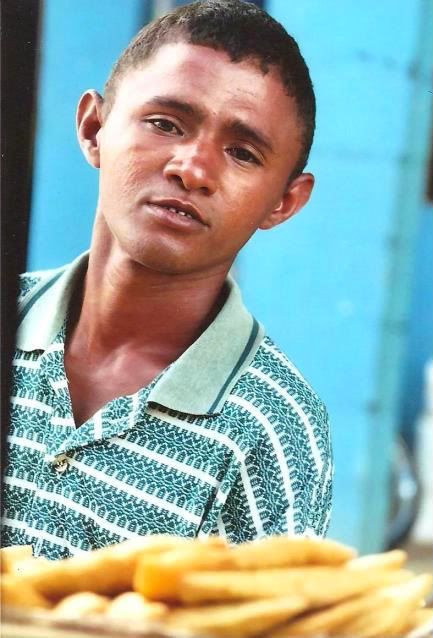 This young Dominican came to the window of our car at a stop light
offering delicious chicken empanadas
Until the fall of 1997, I had no idea where The Dominican Republic was located on this great earth. A letter addressed to my son, Michael, from the First Presidency of The Church of Jesus Christ of Latter Day Saints calling him to serve a mission there, sent my geographically challenged family straight to our globe. We were thrilled to discover it was on a tropical island in the middle of the Caribbean Sea. Then and there, we decided we would return with him some day soon after his mission.
Only mothers of missionaries know the emotional dichotomy that tugs as you send your first child, and only son, away with your heart to spend 2 years in unknown territory doing exactly what you hoped he would choose to do at this juncture in his 19 year old life. We know the ache when we pass his empty room and the pride and satisfaction of knowing he is committed, and brave, enough to take this on. We know how it feels to desperately want to speak to him and hug him and how foolish it feels to clutch the fax machine when it rings on Monday, knowing it connects you to another fax machine four thousand miles away that he is simultaneously touching, as he sends his weekly letter. We know, how your heart pounds and eyes moisten as his precious handwritten words begin to appear. And missionary mothers know, all too well, how important it is to comply with the minimal contact rules so he can stay focused and not give in to a homesick battle of his own.
So when the day comes that you get to see him again and your pride swells and your excited arms wrap around a new young man who is mature and self possessed and dignified and the apple you sent away has returned polished and dipped in gold, you thank the heavenly guided experience that made him the new man that now stands before you and you want to hear about and see and share every bit of it with him.
In May 2001 we took the trip of a lifetime.
It was a wonderful, binding experience for our family,
Here are some favorite moments. . . .
This is the first church in the Americas
;
it was built by Christopher Columbus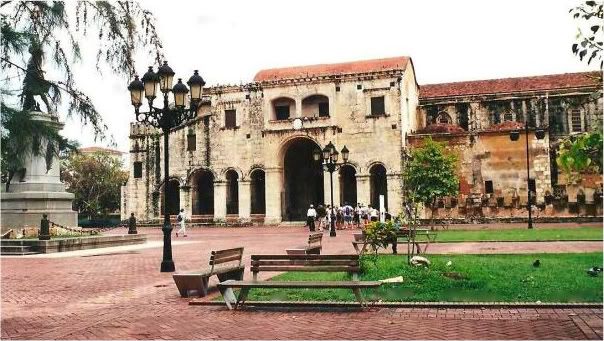 Prior to our visit, I didn't know
that when Christopher Columbus discovered America in 1492,
he had actually landed in the Dominican Republic.
He established the capital city, Santo Domingo
he built this fort to protect the city from pirates,
I love my Dominican figurines
and my handcrafted jewelry
Amber

(the DR is called The Amber Coast)

------------Black Coral & Pink Conch
This stone is Larimar, it is found-------------------------------pestle and mortar

exclusively in the Dominican Republic------------------------------------------------
The multi-stone necklace & earrings and the pestle & mortar
are gifts Michael brought me from his mission
The Dominican Republic is home to Punta Cana,
one of the most beautiful beaches in the world
| | |
| --- | --- |
| | |
| | |
| --- | --- |
| | |
Mike dove into the Caribbean and brought this beauty up for me
It is a Queen Conch
(on a dinner plate so you can see how huge it is)
We gave the conch meat to a local man
(it is a delicacy there)
but some residue was left inside the shell.
When we got to the airport, it started to smell
. . . .ooooh the stench.
We wrapped the suitcase in plastic bags, nothing helped.
Our family still has a good laugh
remembering how people's expressions changed
if they got close enough to smell that bag.
(Sorry folks, nothing was going to stop me from getting my treasure home)
We have been fortunate enough to visit the Dominican Republic twice
Warm, muggy summer weather always reminds me of it;
we call it
D.R. weather
,
and south Texas has a lot of it.
I hope to visit the Dominican Republic again someday.
I know when Mike sees this post, he will want to go again too!
******