8th Grade
I loved
P.E.
, but was traumatized the first day of 7th Grade
First, we had to work out in
ridiculous
blue oompa loompa jumpsuits
.
Then came the real shocker!
Group Showers !
Sheer Panic !
I mean really, aren't 7th graders self conscious
enough
without being required to shower with 3o classmates ?
We got weighed and measured too;
My best friend and I were the same size:
5' 2" and 105 lbs.
Not for long. I grew two inches a year for the next three years.
I loved having class
electives
to explore new interests.
I took, what I consider to be, one of the most important classes in Jr. High,
homemaking
, where I learned to cook and sew.
I sewed dresses for the
other
most important part of Jr Hi, the
dances
.
I still use my 7th grade pie crust recipe!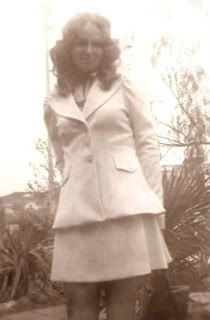 I sewed this suit when I was 18,
It was pale pink knit, with matching pants.
I loved sewing and made most of my clothes until I was 30
By now, I had a
major crush
on Jim Turner. He liked me too,
or so I thought, until he asked my friend, Shari Reyburn, to go steady.
What the.....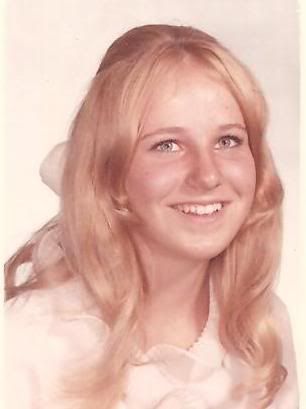 9th Grade
I loved Mutual
!
I had wonderful leaders and role models;
Who were extremely talented women.
It is fun to still see them when we visit Fresno:
Sister Cleveland
,
Sister Bowen
and
Sister Hancock
are truly great ladies.
Under their direction, we performed elaborate
Road Shows
and
Dance Festivals
; they were loads of fun!
I painted the sets
for this one.... wish I had better pictures of it.
Me on the left and Linda (Davis) Freeman on the right......
little did we know, we would one day be sisters-in-law
Sports
were important too!
I was on the
tennis
,
track
and
basketball
teams.
I even won a medal in High Jump at the
Jr. West Coast Relays
.
Jr High was my first opportunity to take classes in
Art,

and I fell in love with it..........
Dad had a cute little
VW bug
in the driveway;
I couldn't wait to get my
drivers license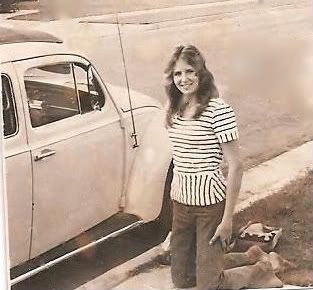 ................ and go to
High School!