All I ever wanted to be was a wife and mother,
So, I never pursued another career.
Unfortunately
, a single girl has to buy gas for her car,
So, I was forced to get a paying job.
My first job
was at
Happiness Rocks
in Pinedale, CA.
I was 16; and a girl in my high school Art class had a business idea.
She recruited me and another classmate to help out.
It was quite clever, really.
She glued river rocks into animal shapes,
then, we painted them into dogs, cats, lions, tigers, frogs....a veritable zoo.
They were shipped to gift shops all over the country
and for awhile, she was fairly successful.
I got fired
from that job, for talking.
Which, I wasn't.
...and even if I was, I am perfectly capable of painting whiskers on a cat
and talking about Friday night's dance, all at the same time.
Second Job
-
Saks Fifth Avenue
Steve left for his mission on October 21, 1972;
I couldn't stand the thought of being in Fresno without him.
So, I moved to Palo Alto the fall of my 18th year.
Along with a change of scenery, came the need to support myself.
I told my parents
not
to send money because I wanted to prove my independence.
Don't ever do that, kids.
It's stupid
.
I was a sales girl at Saks Fifth Avenue in Stanford Shopping Center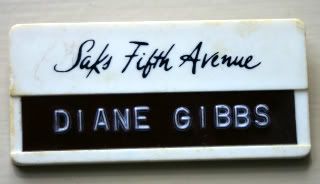 My memories are:
-Lots of pressure to sell, sell, sell.
-Not having enough money to dress as nice as the job required.
-Being Top Salesgirl a time or two
-Modeling for In-House Fashion Shows
Top designers would introduce their latest collections at Saks
(Oscar De La Renta is a jerk, btw).
-On my way to work one day, a semi truck hit my VW Bug;
my car rolled across all 3 lanes of the freeway.
Thankfully, I was OK, but my car was totaled.
After explaining it to the good folks at Saks, they fired me . . . . for being late.
For those of you that are keeping count, that is 2 jobs held, 2 jobs fired from.
Man, it's rough out there.
H & R Block
I have worked 9 years doing taxes, with a 5 year break after having Chloe.
As an artist, I am predominantly right brained;
doing taxes helps balance me :)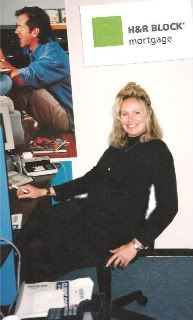 7 months pregnant with Chloe
Self- Employment
Being my own boss is what I like best............
no one can fire you
.
I painted
Christmas Windows
for 20 years.
In two weeks, I would earn enough to give our family a great Christmas!
| | |
| --- | --- |
| | |
Marsha & I worked together one year and this was our flyer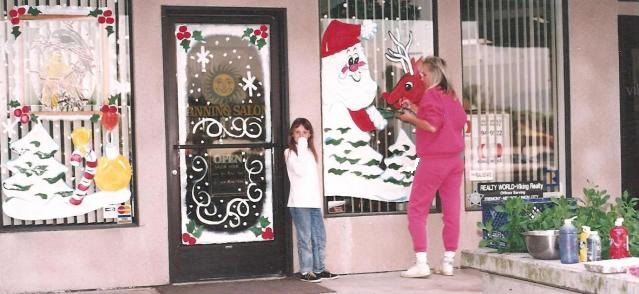 The Closet Organizers
.
Steve and I work well together.
So in 1983, we moved to Fremont to start a closet organizing business.
It was an exciting and successful venture that supported us for 10 years.
After that, Steve returned to General and Electrical Contracting.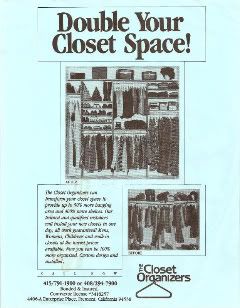 Our Flyer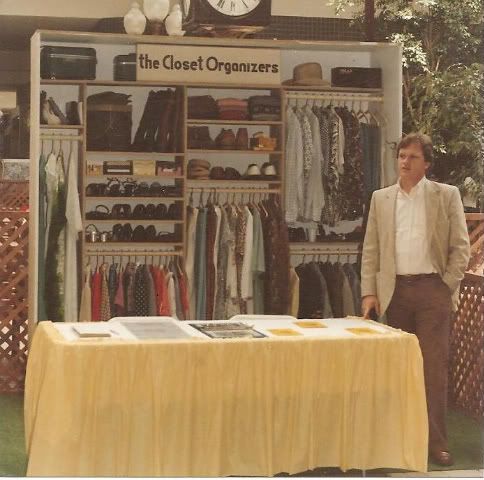 1983 Home Show at Fashion Island in Foster City - Launch Day!
Curves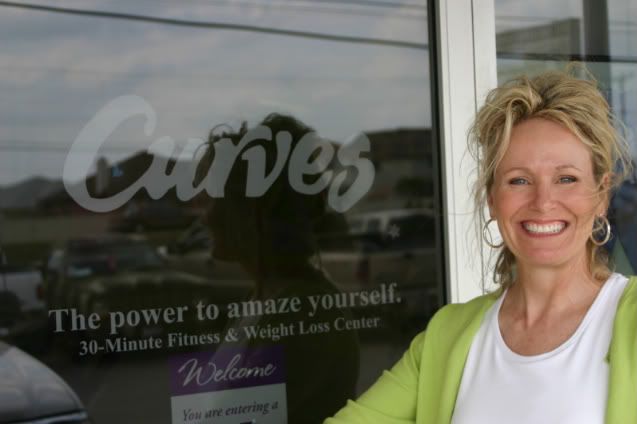 In 2005, we moved to Texas and bought four
Curves
franchises.
it was quite interesting for awhile, but ultimately, it wasn't our cup of tea
so, after 3 1/2 years we sold them.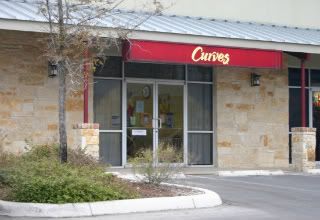 Over the years, we have invested in rental properties and rehabs.
We are currently rehabbing a cute old house in downtown San Antonio
while we take stock of what our next step will be.
One thing is certain, life is not certain.........