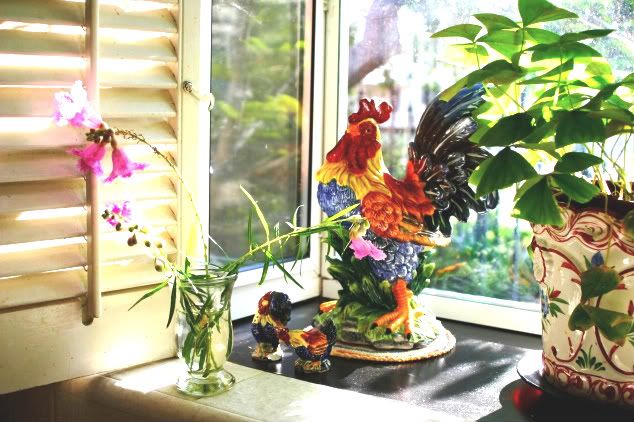 One day, while enjoying my morning walk, I approached a scraggly tree that forced me to duck under its branches overhanging the sidewalk. This sparse, dry, bush was as overgrown and unkempt as desert sagebrush. While passing beneath the ugly tree, I could see small blossoms protruding from the brittle twigs, so I pulled one near for inspection. Then, came a completely unexpected surprise; the blossom was exquisitely beautiful and as delicate as an orchid.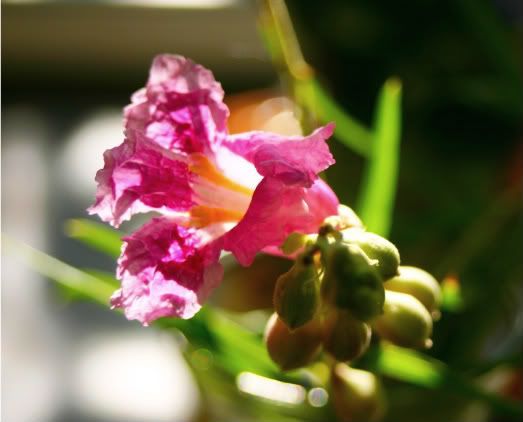 Many, pass their exercising miles away accompanied by an ipod, listening to motivating music, or as my neighbor, Ed, prefers, books on tape. Personally, I like to hear to the sounds of the earth. After a mile or so, I find myself deep in thought; solving, not just my problems, but the world's. It was in such a mood this little flower found me.
I began to reflect on how much lovelier things can be when they come unexpectedly. Contrasted against ugly foliage, this blossom was more beautiful, more appreciated, than if it were growing, predictably, on a lush tropical plant. I thought of how that principle applies to other things in life. A stranger offers to let you go ahead in line or you find a dollar in the road; experiences sweetened by the unexpected.
In college, my mother and I took a theatre class in London, England; a very special time together, that I will never forget. One of the first afternoons, we had some free time; with map in hand, we boarded the subway to find Buckingham Palace. In a strange country, with racing traffic going the wrong way, we walked up and down streets until we turned a corner . . . . and the sight we beheld took my breath away. It was Big Ben. I stood transfixed, teary eyed, thinking of how proudly it had withstood Hitler's bombings in WWII and how magnificently it stood before me that day. Yes, we did find Buchingham Palace and many other wonderful sights during our month long stay, but nothing . . . nothing eclipsed the dramatic surprise we met rounding that corner.
1973
Recently, I overheard Chloe speaking on the phone with my sister, Marsha. Chloe handled herself with such well mannered maturity; I realized that at some time when I wasn't looking, she had grown up, yet a little more. I had no idea she had developed such grace.
I reflected on times I've set myself up for disappointment by anticipating too much out of situations, and people; benefits overshadowed by unrealistic expectations. Imposing my value system on others, judging them, invariably leads to unfair evaluation. It is so much better to appreciate what someone
did
than be disappointed by what they
did not
do. This isn't to say we should have low expectations of others, but to curb our judgments of them. I am a lot happier when I don't expect people to do things exactly the way I would do them and I surely appreciate it when others do the same for me. It's hard though, I like to be in control of situations and it has been a challenge for me to let go of the grip, to let life take its own path.
When Chloe was on the phone, I had let down for a moment, relaxed my control. Instead of managing her . . . . this once, I was just listening. In that moment, caught off guard, I was delighted by her maturity and manners. It was like finding a beautiful blossom at the end of a twig, pleasantly unexpected.