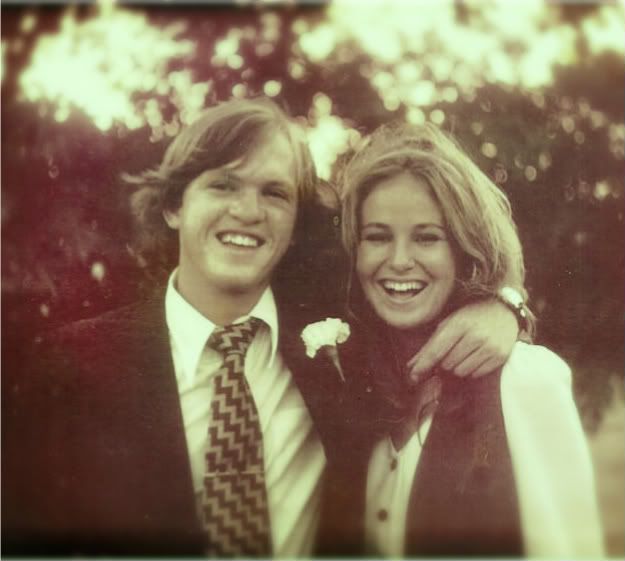 I met my husband when I was

15

.
He was my

FIRST DATE

.
He was my FIRST KISS.
I know how rare that is and I treasure it. He has been my

best friend

ever since.
It was the 1970's

and Church dances still had live bands. It was the most important event in a young girl's life. I would usually sew something new to wear and add some extra hi-lights to my hair. The anticipation vibrated all week.
A group of brothers, who had moved to Fresno the previous year, comprised the band:

Last Friday's Fire

(it was very important to have a cool name for your band). I particularly liked the tall one,

Steve

. I was sure he had outgrown his entire family because I am tall and he was intended to be my husband.
Steve and I soon became

an item

and I would sit backstage, with my sister and best pal,

Marsha

, and we would have that

"we're with the band"

look on our faces because we were cool. The very coolest of all was when the band would play a song that didn't require Steve to play and he would jump off the stage and join me on the dance floor for one song and then he would jump back up on stage. It was

a girl's dream

. Once in awhile the Church would hire Crimson Ivory to play and then I would get to dance with Steve all night. Those were
GREAT TIMES
Vintage photo of Marsha and I backstage
Last Friday's Fire

drew quite a following in those years, and their legacy lives on. One of their biggest fans is now the Stake President and he is using his righteous clout to bring back the 70's.
Now called THE FREEMAN BROTHERS BAND, they reunited last September for a quad-stake dance in Fresno, CA. It was a blast! We danced all evening, took photos in 70's clothing, and yes, Steve even jumped off the stage to dance with me.
A girl's dream.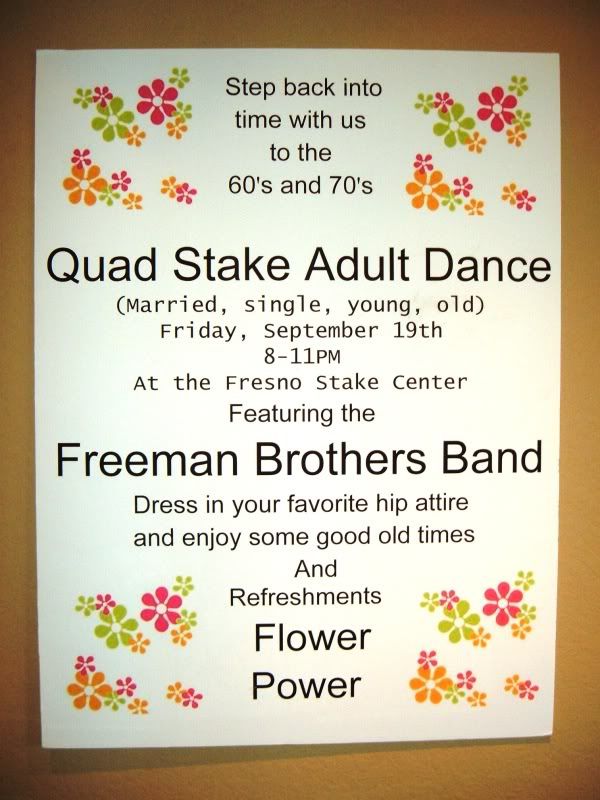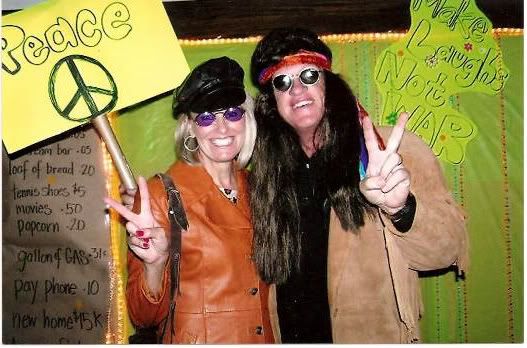 President Cleveland has declared a
Freeman Brothers Dance to be held every year!
So we are

returning to California

for an August 15th

gig

(that is cool band talk, that I happen to know because I am with the band).
We leave Friday!
It is wonderful to get the brothers together to share their love of music.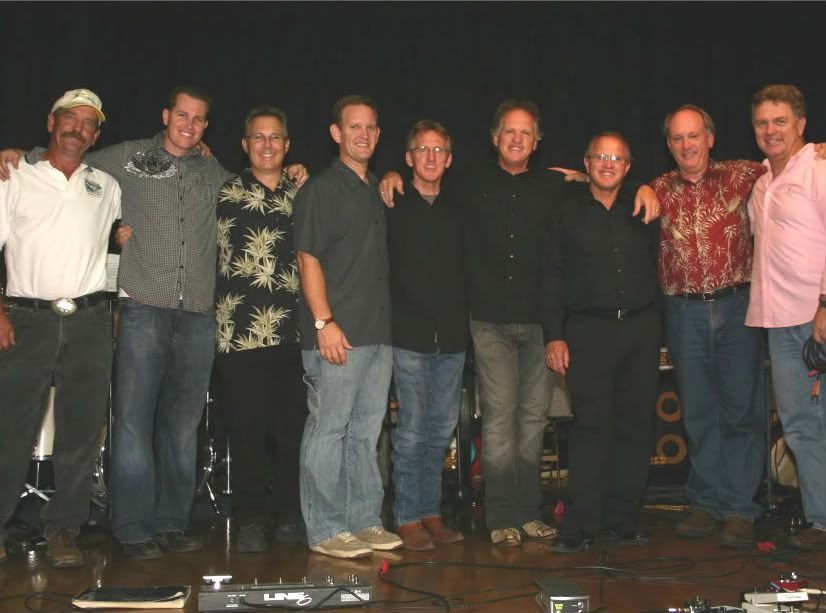 THE 3
FREEMAN BROTHERS
are wearing black shirts; the center one is
MINE
(he's proof that guys in the band are hot)
.
The rest of the guys are excellent musicians who just aren't as famous.
The occasional gig is also nice to justify having an entire room in our home dedicated as
Steve's

MUSIC STUDIO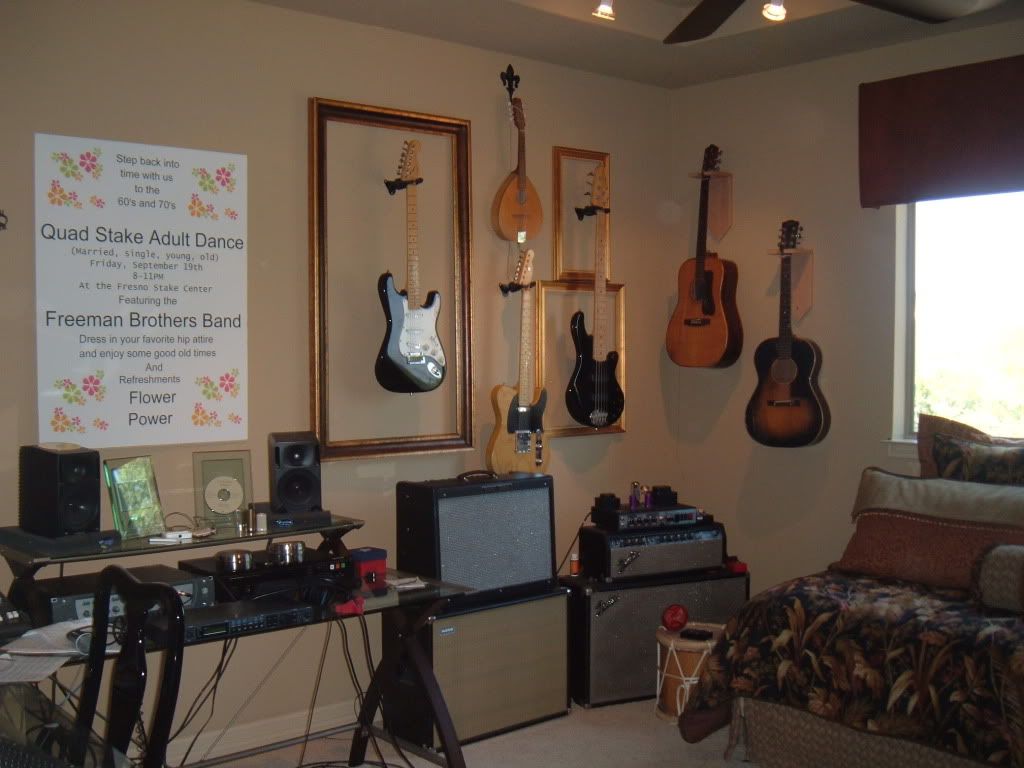 Thanks,

Tom and Lois

, for letting your boys buy

guitars

and have

long hair

and

make racket

in your garage.....it has mushroomed into loads of

wholesome fun

for many, many people.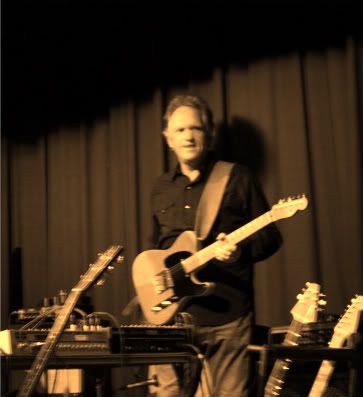 Steve
, with the
Fender Telecaster
he built himself.