Around our house,

we like dogs

.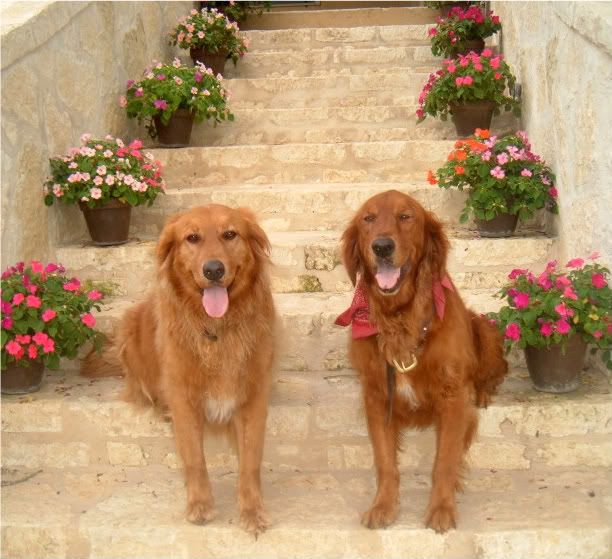 This is
Chloe's bedroom wall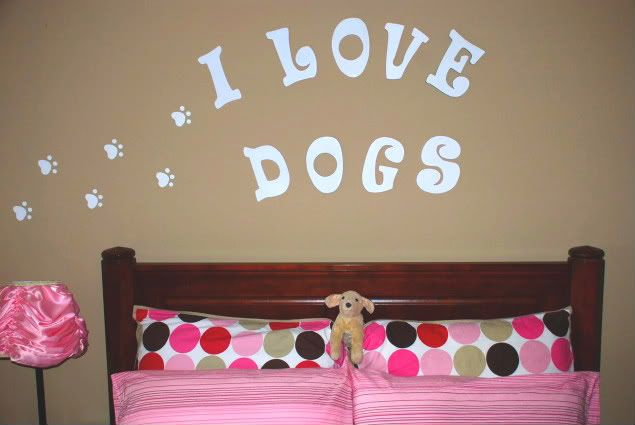 My first dog was named Putty. He was a black and white mutt. Then came Blackie, and after that, Tippy, Magi and Mario. All mutts. That's all there was when we were kids. When someone asked what kind of dog you had, you said something like: "She's a cocker, poodle, lab, terrier mix". Translation: Cathy's dog got out and mated with Randy's dog and both of their pedigrees are in question, so, I really have no idea." Seems like dogs roamed the streets more back then.
Sometime after I was married, everyone started getting
designer dogs
, you know, the one's that have
papers
(what's up with that?
people
don't even have papers). While I was distracted by raising a family, regular people, not just the Queen of England, were acquiring pure-bred dogs. On my daily walks I would meet Afghan Hounds, Bernese Mountain Dogs, Leonbergers, Irish Setters, Newfoundlands, and Dalmatians. My favorite, by far, was the
Golden Retriever
.
One day, we saw an add in the newspaper offering a
free
5 year old Golden Retriever to a good home. His name was
Scooter
......
and he had papers
.
We loved Scooter
He went everywhere with us.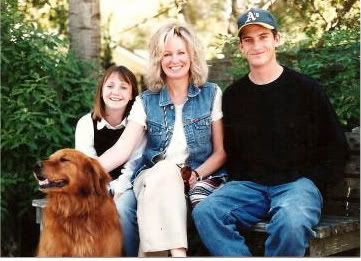 Carmel, CA
He and I walked together every day. Scooter
loved
to camp, swim and fetch.
He was especially good with children.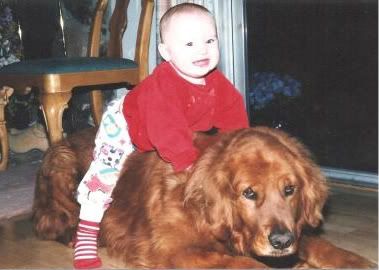 Chloe & Scooter
It was so hard saying goodbye to Scooter;
I didn't ever want another dog.
Five years later, we saw
THIS
. . . who could resist?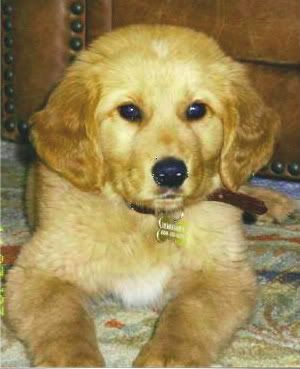 I named him
Rembrandt
(my favorite artist)
Three years later, we rescued
Rusty
from the pound
and nursed him back to health.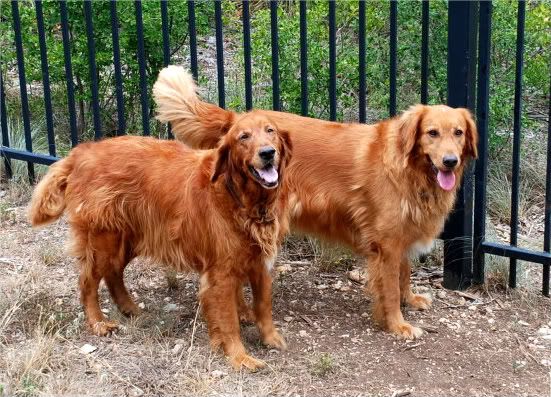 Rusty & Rembrandt
waiting at our back gate for a walk

The Boys
are part of our family; they bring us a lot of happiness.
We love them.
We use a silly voice to personify them. . . .It's embarrassing.
Someday, Rusty and Rembrandt will join all of my other dogs; it's a part of life. Then, maybe I'll get another dog. Like Garth Brooks says, "I could have missed the pain but I'd of had to miss the dance."