We are leaving for
California
today.
We are excited to see our loved ones!
Steve is ready to rock.
Welcome to

FreemanAir
-Fasten your seat belts
-Our flight time will be 24 hours
-We will be cruising at an altitude of Sea Level
-Temperature in Fresno is a sunny 93 degrees
Your Pilot:
Co-Pilot:
Responsibilities
: Flight Attendant - passing out snacks
Reading to Pilot (John
Grishom
- The Broker)
Alternating 4 hour shifts with Pilot
First Class Passenger: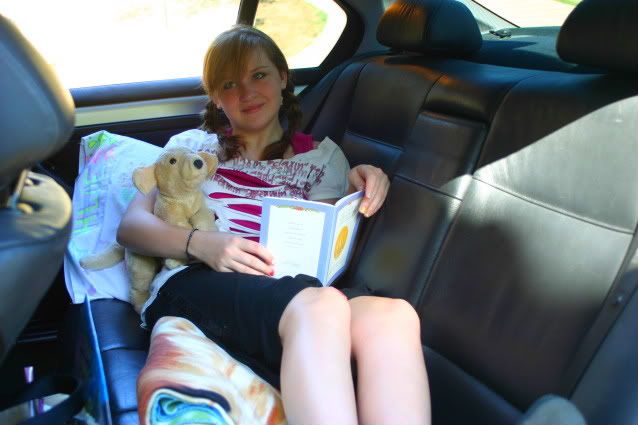 Responsibilities: Sleep, Read, Draw etc
Don't ask, "how much longer?)
travel tip: take a TV tray (with a raised lip) it is perfect for doing activities on your lap. Chloe made beaded earrings, painted by number etc and the little pieces stay contained on the tray instead of getting lost in the crevices of the seat.
Check in on the 13

th

.............
someone special is having a

BIRTHDAY!
I won't be able to blog while staying with my parents.
Dad doesn't believe in computers
. . . or
Internet
.
He thinks FAX machines are the latest thing.
I will post
all of our travel experiences
when
I return

.

<. . . . it will be
GOOD
stuff.>