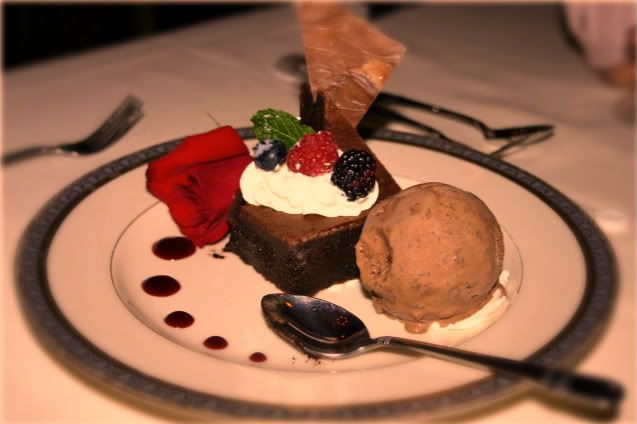 Last night, we were treated to dinner by my dear brother in law, John.
John has a most interesting job that brings him to San Antonio occasionally,
and when it does, we get to enjoy a visit with him.
I always look forward to his call:
"Hi Diane, it's your favorite brother in law".
He came over for a family dinner.
Then, a few days later,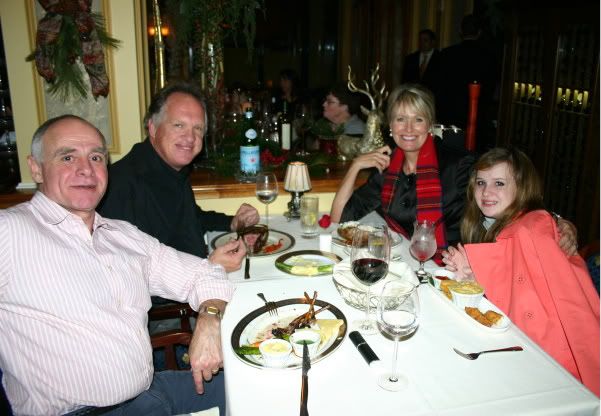 he reciprocated by inviting us to dinner
at one of the nicest steak houses I've ever dined in.
The waiters wore matching black suits with gold ties;
lights were low, conversation soft.
There were fresh white linens and silverware and glasses Chloe wasn't sure what to do with;
and the food wasn't just served, it was
presented
.
When Chloe and I asked about the ladies room, instead of pointing, the waiter led us.
Then, I saw something I had never seen before,
red rose petals scattered in the sinks . . . so lovely, against the white porcelain.
While we were away, our waiter folded my napkin into a crown, Chloe's into a peacock.
We were offered our choice of steak knife from a velvet lined wooden box.
Sorbet was served between courses to freshen our palate,
and a fresh red rose was on my dinner plate . . . . I took it home.
| | |
| --- | --- |
| | |

It was a perfectly delicious and elegant evening.
Thank you, John, for treating us.
Our love to you and your family.